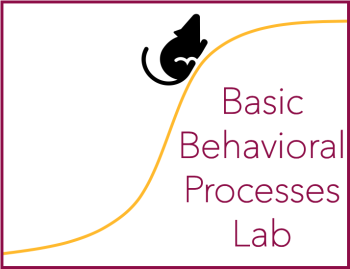 Keywords
Keywords: learning; time perception; response inhibition; choice; animal models; computational models
Lab Area
Behavioral Neuroscience and Comparative Psychology
Lab Director
Dr. Federico Sanabria, PhD
Actively Recruiting Undergraduate Researchers
No
Actively Recruiting Graduate Students
No
Our lab uses detailed analyses of animal behavior to investigate basic behavioral and cognitive processes and their implication in behavioral dysregulation. Common focuses of this research include timing, learning, decision-making, and impulsivity. The BBP lab relies on the collection of high-resolution operant behavioral data, the development of mathematical models of learning and behavior, and on the design of novel behavioral paradigms for use in animal models.
Current Projects
Stress and Interval Timing. Stress can challenge physiological homeostasis in the nervous system, which can result in compromised cognitive function, including a deficit in interval timing, the ability to track time in the seconds-to-minutes range. Recent studies have shown that many of the neural structures that help track the passage of time, including the striatum, hippocampus, and prefrontal cortex, are also morphologically sensitive to chronic stress. We are currently utilizing a chronic variable stress protocol in rats to investigate the effects of stress on various components of the pacemaker-accumulator model of prospective and retrospective interval timing. Additionally, by studying stress-induced changes in dendritic morphology in target regions, we are working to gain insight on the regions involved in stress-induced timing effects.
Structure and Neurobiology of Interval Timing. Our lab uses computational models of real-time behavior to analytically dissociate changes in learning and motivation in temporally- controlled behavior. The neural basis of interval timing remains elusive. Although there are established relationships between a diverse range of brain structures and interval timing capacity, a robust circuit-level account of interval timing has yet to be established. By combining microstructural analysis of behavioral timing paradigms with pharmacological treatments, lesion studies, and subsequent computational modeling of neural and behavioral measures, our lab is working to investigate the role of the hippocampus and prefrontal cortex in timing.
Temporal, spatial, and olfactory control of behavior. Our laboratory is concerned with dissociating timing processes from non-timing processes embedded within instrumental behavior. To accomplish this, our laboratory has examined a novel timing paradigm, has compared performance in this task across species, including humans, and has examined the sensitivity of task performance to nicotine administration. On the spatial dimension, we have demonstrated the contribution of spatial variables (motion and correlation) to Pavlovian sign-tracking. On the olfactory dimension, we have recently explored how odor objects are represented in the brains of mice, including a mouse model of Alzheimer's disease.
Principal Investigator & Lab Director
Dr. Federico Sanabria, PhD; Associate Professor (CV)
Dr. Sanabria's expertise is on the experimental investigation of basic behavioral and cognitive processes underlying behavioral regulation in various species. He is also interested in the application of this research to the study of psychiatric disorders — primarily substance abuse and attention deficit hyperactivity disorder (ADHD). Dr. Sanabria is past-president of the International Society for Comparative Psychology, associate editor of Learning & Behavior, and program board coordinator for the annual convention of the Association for Behavior Analysis International (ABAI).
Current Doctoral Student
Tanya Gupta, M.A. (ASU Profile)
Tanya is interested in the structure of temporal behavioral, as well as biological indices of interval timing and learning. She is also interested in establishing relationships between animal behaviors and the brain structures which facilitate them, and investigating the computational structure of these connections using mathematical models of behavior. Her work has focused on within-session changes in time-based responses, olfactory discrimination in mice, the effect of chronic stress on interval timing, and the role of the hippocampus in temporally entrained behavior. Tanya graduated from Illinois Wesleyan University in 2017 with a B.A. in Psychology and a minor in Biology. Master's Thesis - Effects of Skewed Probe Distributions on Temporal Bisection in Rats: Factors in the Judgment of Ambiguous Intervals.
Current Undergraduate and Post-Baccalaureate Students
Carter Bower, Jaeline Jimenez, Elizabeth Figueroa Lopez, Thorunn McLaughlin
Alumni
Past Ph.D. Students
Dr. Carter Daniels (2018) – Currently Postdoctoral Fellow at Columbia University
Dr. Ryan Brackney (2015) – Currently Manager - Machine Learning Engineer at Cash App
Dr. Elizabeth Watterson (2015)
Dr. Gabriel Mazur (2014) – Currently Program Director at NeuroRestorative
Past Visiting Scholars
Cristina Dos Santos (Universidade de Aveiro, Portugal)
Angel Jimenez Ortiz (Universidad de Guadalajara, Mexico)
Javier Ibias (Universidad Nacional de Educación a Distancia, Spain)
Beatriz Robayo (Universidad de Guadalajara, Mexico)
Pablo Covarrubias (Universidad de Guadalajara, Mexico)
Felipe Cabrera (Universidad de Guadalajara, Mexico)
Select and Recent Publications
For a full list of publications please visit Dr. Federico Sanabria's Google scholar profile.
Most Recent 10 Publications:
2021
Brackney, R. J., Garcia, R., & Sanabria, F. (in press). Longer operant lever-press duration requirements induce fewer but longer response bouts in rats. Learning & Behavior. https://doi.org/10.3758/s13420-021-00464-7
Holter, M. C., Hewitt, L. T., Nishimura, K. J., Knowles, S. J., Bjorklund, G. R., Shah, S., Fry, N. R., Rees, K. P., Gupta, T. A., Daniels, C. W., Li, G., Marsh, S. Treiman, D. M., Olive, M. F., Anderson, T. R., Sanabria, F., Snider, W. D., & Newbern, J. M. (2021). Hyperactive MEK1 signaling in cortical GABAergic neurons promotes embryonic parvalbumin neuron loss and defects in behavioral inhibition. Cerebral Cortex, 31, 3064-3081. https://doi.org/10.1093/cercor/bhaa4
Sanabria, F. (2021). Pavlovian and instrumental conditioning. Oxford Research Encyclopedia of Psychology. https://doi.org/10.1093/acrefore/9780190236557.013.784
2020
Judd, J. M., Smith, E. A., Kim, J., Shah, V., Sanabria, F., & Conrad, C. D. (2020). Chronic stress has lasting effects on improved cued discrimination early in extinction. Learning & Memory, 27, 319-327. http://www.learnmem.org/cgi/doi/10.1101/lm.051060.119
Patock-Peckham, J. A., Belton, D. A., D'Ardenne, K., Tein, J.-Y., Bauman, D. C., Infurna, F. J., Sanabria, F., Curtis, J., Morgan-Lopez, A. A., & McClure, S. M. (2020). Dimensions of childhood trauma and their direct and indirect links to PTSD, impaired control over drinking, and alcohol-related-problems. Addictive Behaviors Reports, 12, 100304. https://doi.org/10.1016/j.abrep.2020.100304
Sanabria, F. (2020). Internal-clock models and misguided views of mechanistic explanations: A reply to Eckard & Lattal (2020). Perspectives on Behavior Science, 43, 779-790. https://doi.org/10.1007/s40614-020-00268-6
Sanabria, F. & Bell, M. C. (2020). Failure to find a distance effect in pigeon choice: Manipulating amount and delay of reinforcement. Journal of the Experimental Analysis of Behavior, 114, 276-290. https://doi.org/10.1002/jeab.627
Santos, C. & Sanabria F. (2020). Past outcomes and time flexibly exert joint control over midsession reversal performance in the rat. Behavioural Processes, 171, 104028. https://doi.org/10.1016/j.beproc.2019.104028
2019

Alfaro, L., Sanabria, F., & Cabrera, R. (2019). The role of outcome unit size in the collective foraging strategies of rats. International Journal of Comparative Psychology, 32. https://doi.org/10.46867/ijcp.2019.32.00.16
Gupta, T. A., Daniels, C. W., Ortiz, J. B., Stephens, M., Overby, P., Romero, K., Conrad, C. D., & Sanabria, F. (2019). The differential role of the dorsal hippocampus in initiating and terminating timed responses: A lesion study using the switch-timing task. Behavioural Brain Research, 376, 112184. https://doi.org/10.1016/j.bbr.2019.112184
Sanabria, F., Daniels, C. W., Gupta, T., & Santos, C. (2019). A computational formulation of the behavior systems account of the temporal organization of motivated behavior. Behavioural Processes, 169, 103952. https://doi.org/10.1016/j.beproc.2019.103952
News & more
Tanya Gupta was awarded the 2021 Innovative Student Research Grant (Doctoral Level) from the Society for the Advancement of Behavior Analysis. The award will support her research on the behavioral and neurobiological mechanisms of temporal control by long intervals.
Contact Us
If you are interested in joining the lab, send an email to Tanya Gupta at tgupta13@asu.edu. If there is an opening available, an interview and lab tour will be arranged.
Research Opportunity Description
What you may expect from the lab:

Work in the lab consists of 9 h/week of various duties involving laboratory animals (typically rats and mice). The schedule and nature of these duties are arranged between new lab members and their supervisor before joining the lab. Laboratory duties typically include monitoring the welfare of laboratory animals, transporting them to testing rooms, verifying the integrity of testing equipment and data, and regularly presenting data to other lab members. Interested lab members with sufficient experience (typically with at least 6 months of experience in the lab) may lead their own projects, present posters at scientific conferences, and serve as co-authors in peer-reviewed scientific publications.

You may expect to learn empirical and analytic techniques that are key to conduct research on animal behavior and cognition. You may also broaden your knowledge on animal models of psychiatric disorders such as substance use disorder and attention-deficit hyperactivity disorder. Work and learning is expected to complement each other, and to take place in a collegial, cooperative environment.

What the lab expects from you:

All lab members are expected to:

Work in the laboratory a minimum of 9 h/week (3 credit hours/semester) for each of 2 academic semesters (this includes the week of final exams in each semester).
Students taking PSY 499 credit or supported by WAESO for work in the lab, are expected to write a report of their work by the end of the semester in which they were supported.

Performance in the lab is expected to be punctual, dedicated, and conscientious.